Auckland West Federation
There are seven W.I.s in the Auckland West Federation.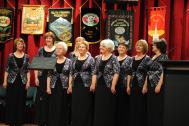 Kumeu WI choir - Winners 2009...over 10 years ago. What are they doing now?
---
Green Bay
meet at 9.30 am on the 3rd Thursday at the Iona Church hall, Blockhouse Bay Road
Helensville
meet at 1.30 pm on the 1st Thursday at the Masonic Lodge, Helensville
Kumeu
meet at 11.00 am on the 1st Wednesday at the Kumeu Community Hall, Access Road
New Lynn
meet at 10.00 am on the 1st Monday at the New Lynn Library meeting room
Swanson
meet at 11.00 am on the 2nd Tuesday at the Swanson RSA
Te Atatu
meet at 1.30 pm on the 1st Wednesday
Titirangi / Blockhouse Bay
meet at 11.45 am on the 3rd Wednesday at Armnesco House, Blockhouse Bay
Auckland West's is here! Their July newsletter that is!
- catch up on all the news and check out their Facebook page www.facebook.com/AWFWI
For more information contact us